Piano Services in Sandy, UT
For the very best in quality piano tuning and repairs, call Horton Piano Tuning and Repair. We offer top-notch piano services at prices that will sound like music to your ears. For piano tuners with an ear for harmony and a touch of gold, give us a call today!
Complete Piano Regulation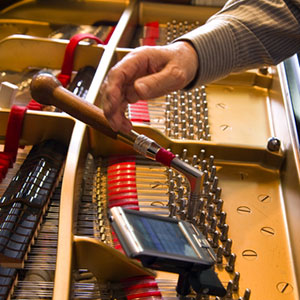 When you love music, whether you are just learning to play or are an experienced pianist, having a piano that is in good repair and finely tuned is essential to your art. Pianos that are cherished by their owners should receive regular maintenance. When your piano starts to sound a little off or is in need of repair, it is time to start looking for piano tuners in Sandy, UT. Regular maintenance will help keep costs low and ensure your piano sounds as beautiful as the day you bought it. When it comes to piano services in Sandy, Salt Lake City, West Jordan, Murray, or West Valley City, UT, Horton Piano Tuning and Repair is the best in the business.
As family-owned and operated piano tuners in Sandy, UT for over 60 years, you can believe that pianos are our passion. We are as dedicated to the art of piano regulation as you are to the art of music. We firmly believe that the most beautiful music only comes from a finely tuned piano. Anyone can plunk through a song, but true artistry comes from the beautiful harmony between a passionate artist and beautiful instrument. For piano services in Sandy, UT that will keep your piano functioning at its best, we should be your first choice. Here's why you should contact us:
We have over 60 years' experience as piano tuners.
We are dedicated to making your piano sound better than ever.
We service a wide variety of pianos.
Customer satisfaction is our top priority.
We service a 40-mile radius around Sandy, UT.
Proudly providing piano regulation services to Sandy, UT and the following surrounding areas:
White City, UT
Draper, UT
Granite, UT
Midvale, UT
Cottonwood Heights, UT
West Jordan, UT
Layton, UT
Park City, UT
Provo, UT
Salt Lake City, UT
Sandy, UT
Spanish Fork, UT
South Jordan, UT